VOSH Minnesota is an organization dedicated to serving the vision needs of people around the world who cannot afford or do not have access to vision care.
We are a volunteer group of optometrists, ophthalmologists, opticians and concerned lay people who travel around the globe to help provide better sight to those less fortunate. Each VOSH mission is a unique and fascinating way to see and learn about another culture. You won't find a more rewarding way to volunteer your time and talents than by participating in a VOSH mission. We hope you will be inspired to help us "Bring the World into Focus"!
Please visit our calendar for future workshops and events.  All are welcome to attend.

Fundraising
VOSH-MN depends upon your help. Please consider giving to our fund raising campaign to purchase a hand held slit lamp. This portable instrument will allow our volunteers to examine ocular health on future missions.
VOSH-MN is a charitable public foundation. All donations are tax deductible.
Can you help us reach our $5,000 goal?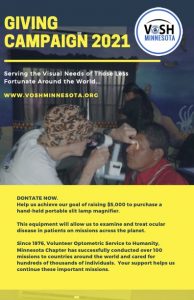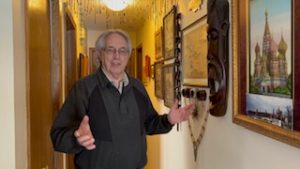 VOSH Mn would like to give a shout-out to one of our longtime members, Kirk Thomas. We recently talked to Kirk about his experiences with VOSH, and he has given us permission to share. Thank you, Kirk, for all that you have done for people less fortunate by offering countless volunteer hours to such a deserving entity.
Kirk was introduced to VOSH in 1986 by his brother, the late optometrist, Dr. G. Thomas. When Dr. Thomas asked Kirk to join him on a VOSH mission trip, Kirk countered with the fact that he had no optical experience. Dr. Thomas reassured him in only a way a brother can: "We need a dummy to carry stuff!" Kirk quickly learned how to adjust glasses and has been doing that on his twenty-nine, yes, twenty-nine mission trips ever since. This included traveling to about a dozen countries.
Kirk describes the moment when he knew this would be a long-term passion. He said that an elderly woman handed him glasses with an extremely high prescription. He had never seen glasses that thick. He was able to adjust them. As he thanked her for coming, she started sobbing and hugged him. She hadn't seen that clearly in decades. "Needless to say, I was hooked and reborn to serve in the humanities."
When asked what his favorite trip was, he said probably Cuba. It was so different than normally portrayed. He couldn't decide on the most interesting trip as each one holds such great memories. He specifically remembers seeing Moscow and going into the Kremlin and into Lenin's tomb and seeing the Crown Jewels. He was able to see Saint Basil's Cathedral as well. He truly was overwhelmed with Machu Picchu in Peru and describes it as the height of sensory overload.
Memories of poverty in some of the mission trips humble Kirk. He reminded us of how fortunate we are and that we should be thankful and appreciative. He said that volunteers on the mission trips would often return, saying they would never do it again and then, in the next sentence, ask where are we going next?! It is such a beautiful dichotomy of being overwhelmed and happy. Kirk encourages everyone to help the unfortunate.
Thank you, Kirk, for the many years of volunteering for VOSH Mn, for serving on the board, and for helping others. You are truly inspirational to us all. Please help us wish Kirk a happy retirement and thank him by emailing him at tschida@holeintheday.net.
---
Contact us via our VOSH Minnesota President, Stacy Hinkemeyer at smhink@aol.com